How to Start a Blog Free -
Would you like to learn how to start a blog for free with no coding experience?  Below, I will show you how to start a blog, save money and which services I love and use for my blog.
I created this site without any professional help.  I have no coding experience and I did not go to school to learn web design.  I was raised by my Polish grandmother in Detroit.  Many people assume that other people have attained success because of their education or privileged upbringing.  I built this site from the ground up, just as others have.   Through determination, passion, and patience, many people build lives with the financial freedom to live life to the fullest.  They don't listen to the negative talk around them, they just kept believing in their dream.  They get up at 5 am to make things happen and don't make excuses.
People say that money isn't everything.  It isn't.  But when you have "everything," money is that bonus that sets us free to enjoy all that life has to offer.  It allows us to help others financially, travel the world, eat out, have peace of mind and whatever else you can imagine.  There are bloggers that make over $100,000 per month, consistently.  Per MONTH!  Imagine just a fraction of that?  How would $10,000 a month change your life?  I have the mindset that if someone else is capable of achieving something, then so am I.  I'm here to tell you that if I'm capable of creating this site, so can you!
Below, I will show you how to "start" a blog.  Starting a blog is easy, you can be up in just a few minutes.  It's building and creating the blog that no one really talks about.  This blog and my course "How to Create a Blog - A Beginner's Course," took about 6 months to get ready to launch.
My course, "How to Create a Blog - A Beginner's Course," details what to do if you get the "white screen of death," and many other issues that can occur.  I also discuss the many legal requirements, affiliate marketing, social media and much more.  I created this course for other people to be able to have the necessary information in one place.  It will save you countless days of research and potentially hundreds of dollars by not having to hire a team of web design experts.
Let's get your blog started now!
Step 1 - I personally use and love Bluehost.  The hosting package is only $2.65 per month, which includes your free domain name.  The banner below says, "$3.95 per month," but keep reading and I will show you how to get a fabulous deal with freebies!
Step 2 - Picking out a great domain name is very important.  In my course, I go over the importance of picking out a good domain name and some tips to come up with a memorable name.
Great! Now, you've probably picked out your Domain name and it's awesome! Congratulations!

The 1st step to registering a Domain Name is to sign up for a hosting service because it's an all in one set-up.
If your Domain Name is available, you'll see the Account Setup page.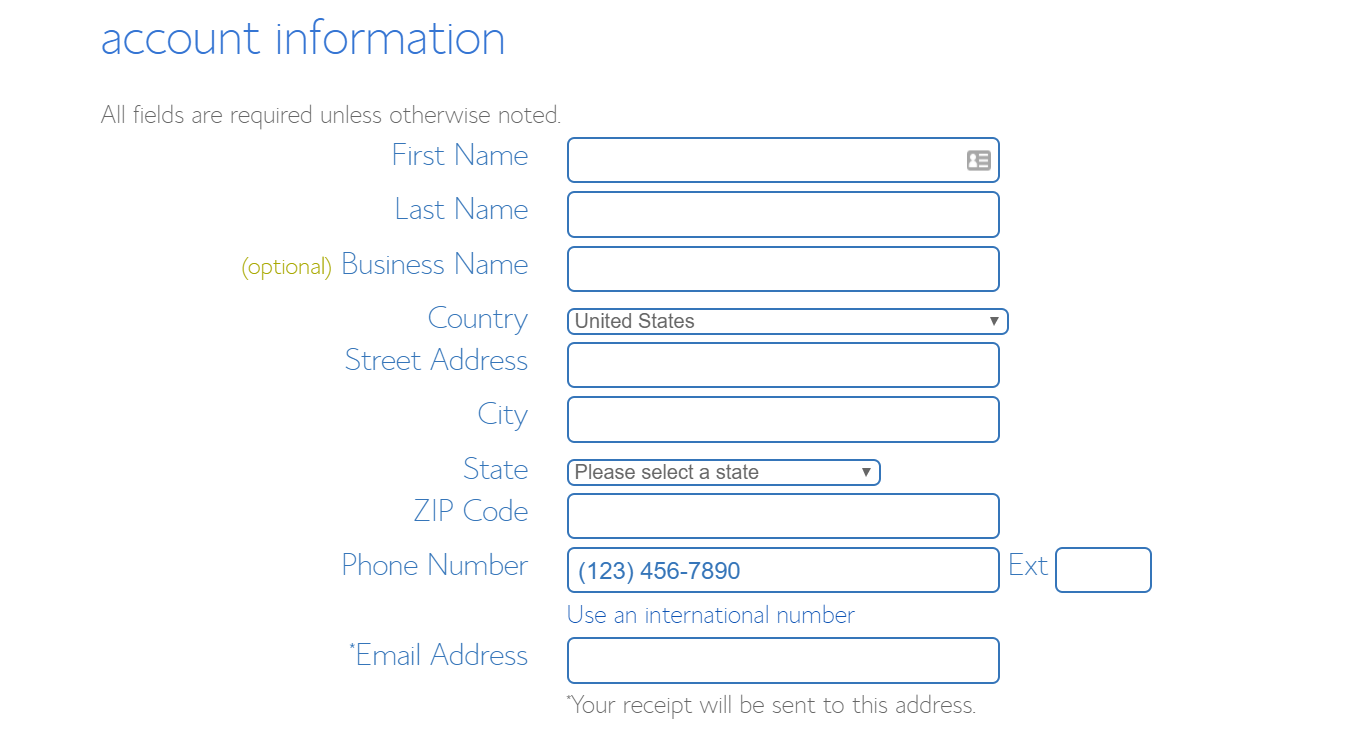 Scroll down to the package section and then hover your mouse over your tabs without clicking and you'll see the pop-up below to get great savings! If hovering over your tabs don't work, you can simply clear your browsing data.
Clear your Browser Cache Instructions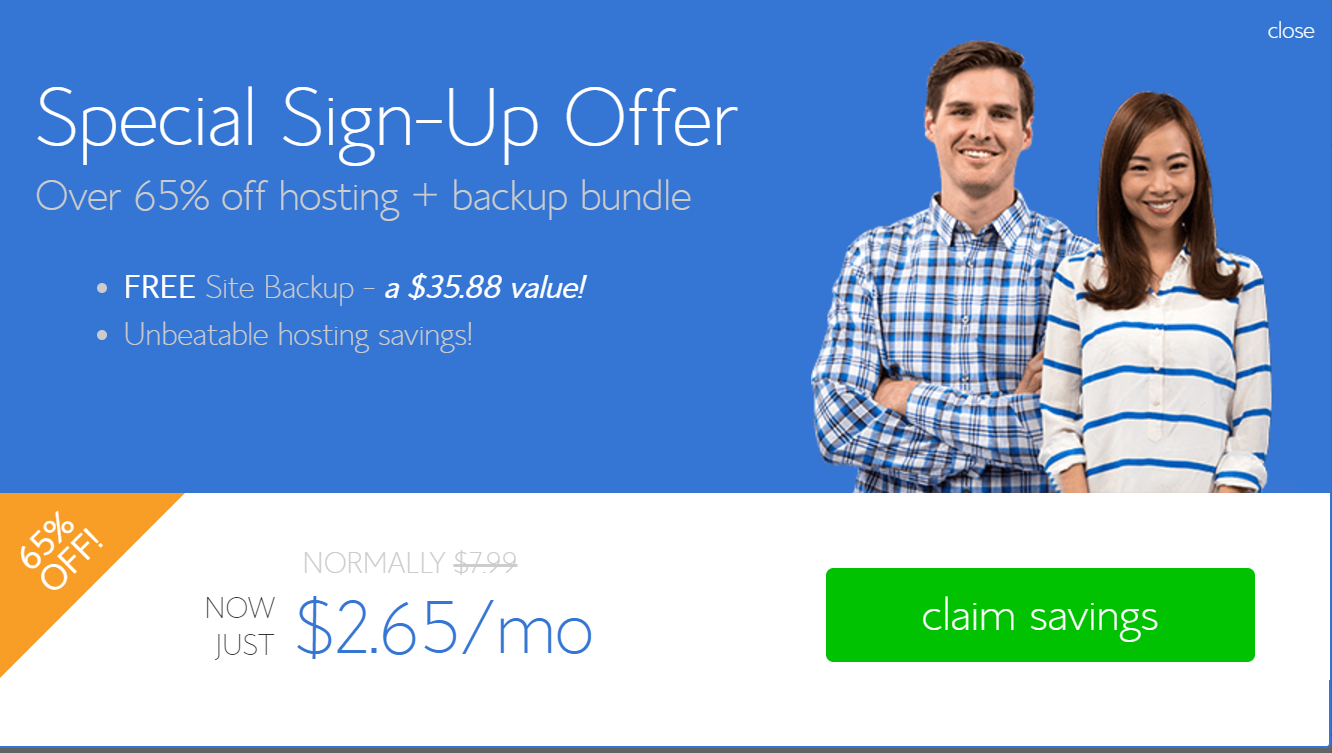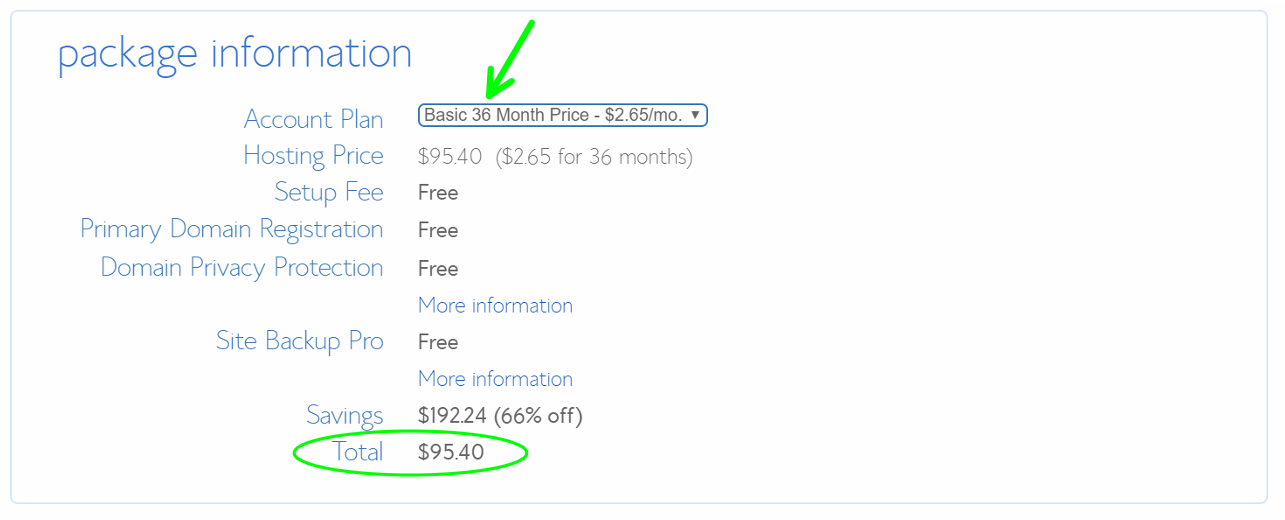 That's 3 YEARS of Domain hosting, free Domain Name, free Setup, free Domain Privacy Protection and free Site Backup Pro!! That's a great deal! If you decide that you need a different hosting package to serve your site, you can always upgrade once you start getting a lot of traffic.
Below is the basic package for 3 years without the savings.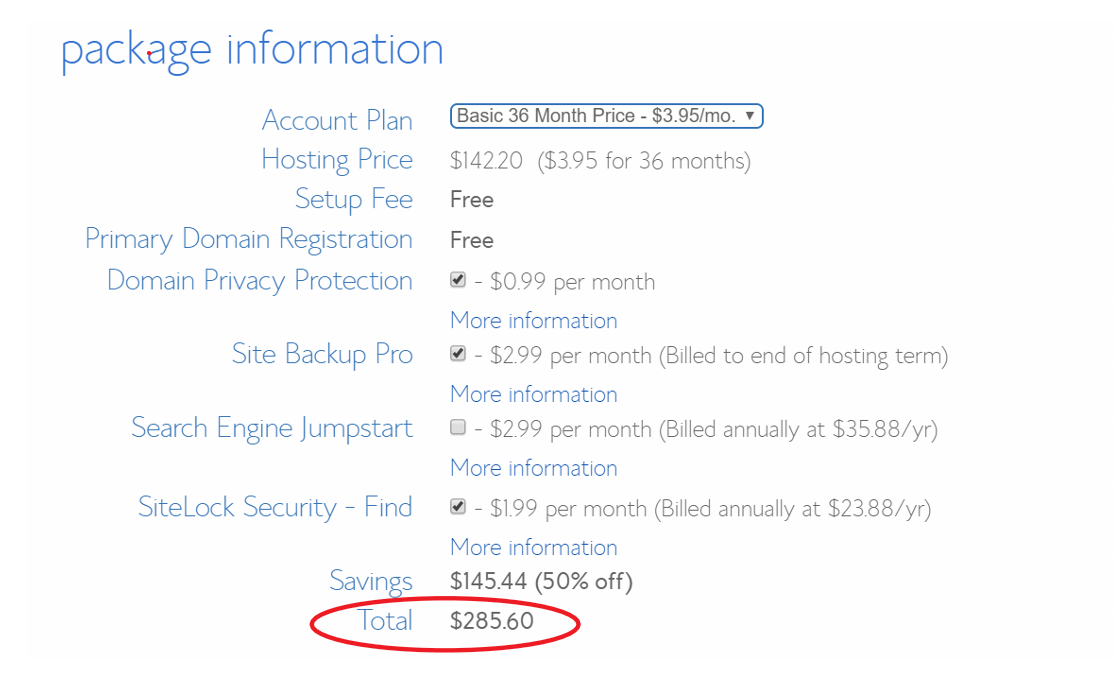 Locking in for 3 years at an introductory price is a great idea, simply because it's an introductory price and it will give you a lot of time to build your site and gather a following of readers.
I personally use and love WordPress.org.  It is a self-hosted platform to build your site on.  It is what the top bloggers use, including billion dollar companies.
From the Bluehost dashboard, you can install WordPress.org.
This site is created using Studio Press. My theme is called "Market."  It looks drastically different because I customized it.  I used free plugins and other free tools to make custom changes without needing to know how to code.  All of my tips and tricks are in my course, "How to Create a Blog - A Beginner's Course."
Join our free newsletter!
Subscribe to get our latest content by email.